I got this award from
Nicole at Lanier's Lions
. Thanks so much! Go see her if you get a chance.

I am supposed to give 7 random facts about myself so here goes:
1. I have been teaching in the same district for 20 years.
2. I love the beach.
3. My hubby calls me Putt Putt.
4. I love Boston Terriers.
5. I think my 2 daughters are pretty darn cool!
6. I'm addicted to HGTV.
7. Laughing is my favorite thing to do.
Now I am supposed to nominate 15 bloggers, but I am cheating and only nominating one....don't be mad, I just don't have the patience to scroll around to see who has not gotten this award. Soooooooo
I am nominating my BFF and first grade partner, April. Here is her cute button. (Something I have no idea how to do)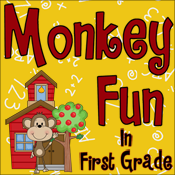 Go see her blog. She is just starting out and needs some followers. She has great ideas and more will be coming once school starts again.
Thanks again Nicole!